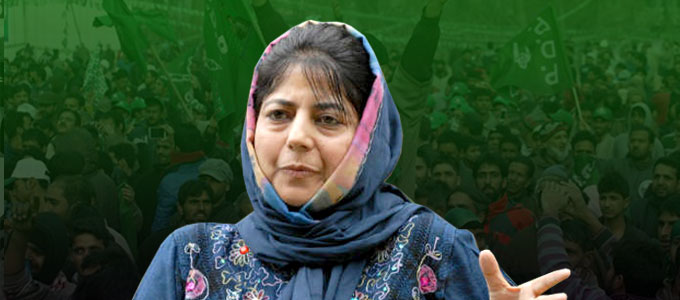 Ms Mehbooba Mufti is one of the founding members of party. She served as the Chief Minister of Jammu and Kashmir, from 4th April 2016 to 19th June 2018. She was the first woman Chief Minister of J&K. She currently holds the responsibility of the president of the Jammu and Kashmir Peoples Democratic Party (PDP).
Early Life
She is the daughter of Mufti Mohammad Sayeed, born in 1959 in Akhran Nowpora. She earned her law degree from the University of Kashmir.
Political Journey
Ms Mehbooba Mufti started her journey in 1996 by becoming one of the most popular members elected from Bijbehara on an Indian National Congress ticket. Ms Mehbooba quickly made a mark as the leader of the opposition in the assembly. She became party vice-president of newly found J&K Peoples Democratic Party in 1999.
She resigned from state assembly and later won the Pahalgam seat in the state assembly from South Kashmir in assembly elections of 2002. She was elected to the Lok Sabha from Anantnag seat in 2004 and 2014.
After her father's death in January 2016, when he was heading the coalition government in Jammu and Kashmir, she took forward the same alliance with Bhartiya Janata Party (BJP), the second time the BJP and the PDP formed a government in Jammu and Kashmir. On 4 April 2016, she took the oath and became the first woman Chief Minister of Jammu and Kashmir.
On 25 June 2016 she won an Assembly seat in a by-election in Anantnag with the highest margin in any recent elections there.
Photo Gallery