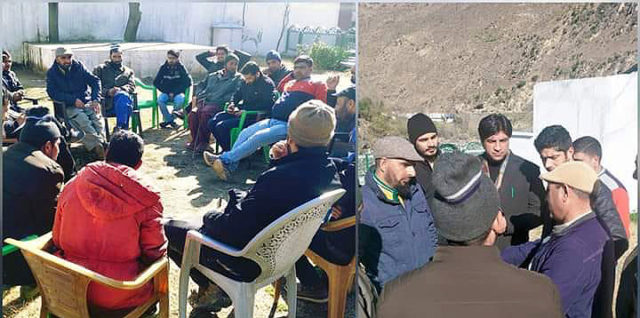 People's Democratic Party held a meeting of its workers from Thathri at PWD Dak Bungalow here in which measures needed for party's growth in Inderwal constituency and particularly in Thathri sub division were discussed at threadbare on Sunday here.
In the meeting which was chaired by PDP District President Kishtwar Advocate Sheikh Nasir Hussain the participants spoke over the present political scenario in Inderwal constituency and resolved to further strengthen the party at grassroots. Sheikh Nasir while addressing the party workers termed PDP as the only party with roadmap for development, prosperity and peace. He said that party is having moral fibre to protect the interests of the Jammu and Kashmir. Sheikh Nasir asked the party workers to step up their activities and hold meetings with people in their respective panchayats and strengthen the party at grassroots.
Besides Sheikh Nasir, zonal president Abdul Rehman Kashmiri, Shabir Ahmad, Abdul Rashid, Saddam Hussein Panch, Mohd Sadiq, Abdul Qayoom Naik, Waseem Tak, Ashiq Hussain, Mohd Younas Naib Sarpanch, Mohd Irfan, Mohd Ishaq, Sajad Hussain, Azhar ud Din, Tahseen Hussain, Nissar Ahmad and Ghulam Hassan also spoke on the occasion.