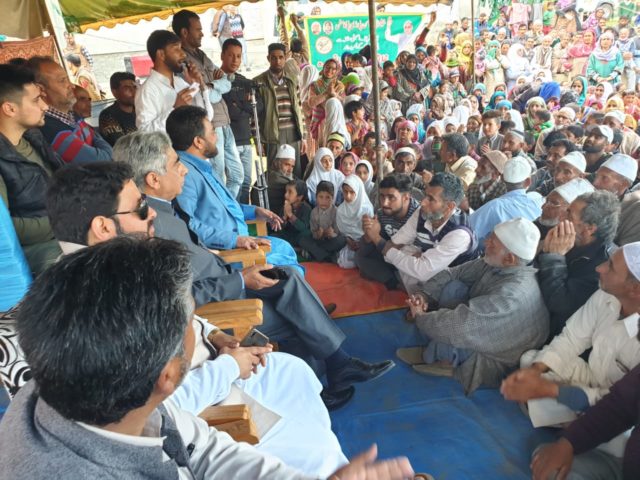 Party on Tuesday slammed the central government's policies aimed to subjugate and strangulate the already perturbed people of Kashmir and said that such measures have proven counterproductive- making the situation more chaotic and appalling.
Addressing large number of people in Chowdhri Gund Charar-i-Sharief, PDP General secretary Ghulam Nabi Lone Hanjura said there are rigorous attempts being made by the BJP to worsen the situation in Jammu and Kashmir so that it could garner maximum votes. "It is unfortunate that Kashmir is used as a punching bag by the BJP and its people are everyday tortured, humiliated and harassed so that BJP could tell its voters how much tough it is against the Muslims of Kashmir," said Hanjura.
Terming the highway ban part of a larger conspiracy against the people of Kashmir, Hanjura said that the measure has been taken to send a message to all people of the state that they are being controlled directly by New Delhi and their civilian rights and entitlements matter least for the government.
He said it is ruthless how religious heads like Mirwaiz Umar Farooq is harassed religious outfits are banned with clerics bundled in jails like dreaded criminals.
Hanjura said that PDP will remain in the forefront to oppose any move aimed at harassing, suppressing and targeting the people of state and that the policies being adopted by the central leadership towards Jammu and Kashmir are turning it into theatre of war. "It seems that government of India is now completely depending on force as a measure to subjugate the people of state. However, it has to understand that no muscular policy will work as it has never worked in the past and it will never work in future also," said Hanjura, adding that the a new era of development that wasn't witnessed in the past 36 years ushered in with building of roads, new colleges, hospitals and schools.
He said PDP led government also ensured peace-building measures are taken on priority like Ramzan ceasefire, withdrawal of 12 thousand FIRs and safeguard of Article 35-A in the Supreme Court.
He added that those at the helm must understand that dialogue is the only way through which peace can be made an inseparable feature of Jammu and Kashmir. "It was Mufti Mohammad Sayeed who initiated an era of reconciliation in Jammu and Kashmir and laid the foundation of the ideology that declares that the state must become a bridge of friendship between India and Pakistan," Hanjura said and. Urged people to vote for the PDP candidate Aga Syed Mohsin so that a legitimate voice of the people is heard in the parliament.
Other PDP leaders who were present on the occasion include MLC Mohammad Khurshid Alam, Muntazir Mohi-ud-din, Agha Syed Mohsin, Er Nazir Yatoo, Abdul Hameed Kosheen, Mohammad Yaseen Bhat and several others.