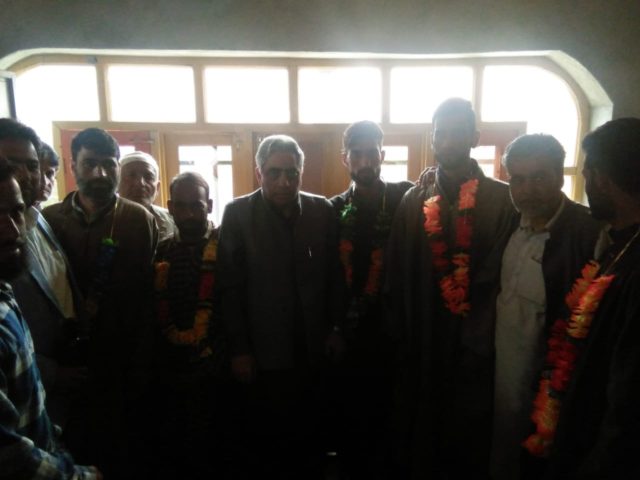 Srinagar: Terming the ongoing elections extremely  crucial for the future coarse of history,  Peoples Democratic Party  (PDP) on Friday said the present time could possibly be the last opportunity to safeguard Jammu and Kashmir's special position and unique identity.
Addressing people in various areas of Central Kashmir's Chrar-e-Sharief, PDP General Secretary Ghulam Nabi Lone Hanjura urned people to vote with extreme caution and not to fall prey to divisive agendas of the communal forces who have infiltrated into Kashmir's political spectrum in various disguises.
Hanjura said that people must exhibit a unanimous face at this crucial juncture of history and thwart the nefarious designs of the BJP that has made scarping Article 35-A prominent on  its election manifesto.
He said that PDP is firm in its belief that resolution of Jammu and Kashmir problem is possible if both India and Pakistan leave their ego for the betterment of the people living in south Asia and same can be achieved by addressing the aspirations of the people of Jammu and Kashmir and also while safeguarding the integrity of both the countries.  Hanjura said that it is unfortunate that the BJP government thinks that the issue can be resolved by enforcing the peace of graveyard, squeezing spaces of dissent and dialogue and banning organisations. According to him, such measures can be very dangerous as established by recent unfortunate bombing in Pulwama which almost brought the two countries to the brink of a nuclear war.
The party general secretary said that PDP is seeking resolution of problems through democratic process and there is already a common space on which we can work and on which the people of Jammu and Kashmir are united.
On the occasion several prominent functionaries of national  conference in Chrar-e-Shrief joined PDP. Flanked by PDP leaders Engineer Nazir Ahmad Yatoo, Mohammad Shafi Shadab, Abdul Rahman Nengroo and Abdul Salaam Bhat Hanjura, according to the party spokesman addressed public rallies in Brijan, Kathear, Rahngar and several other areas of  Chrar-e-Sharief.