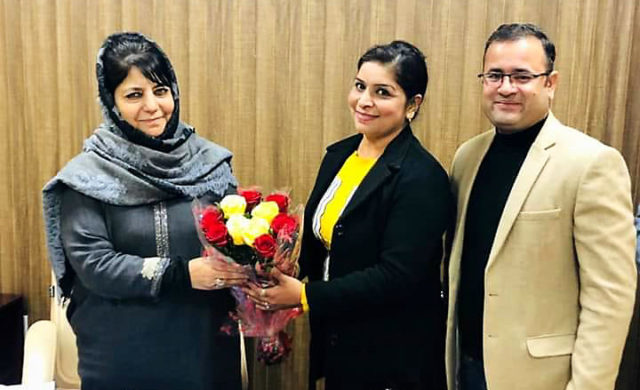 The PDP President, Ms Mehbooba Mufti felicitated Neete Kour, International Power Lifting Gold Medalist, for bringing laurels to the State and assured her all possible support.
Ms Mufti hailed the efforts of Neete and said that her performance will inspire a lot of young women to take up sports as a career. She also laid stress for involving youth of the State in sports activities to prevent them from falling prey to drugs.
On the occasion, a deputation of people from Kathua and R S Pura led by PDP Youth leader, Parvez Waffa met PDP President and former Chief Minister Mehbooba Mufti and discussed various issues being faced by them.
The party president gave a patient hearing to the deputation and assured for early redressal of their demands. She also appreciated the efforts of Parvez Waffa for showing serious concern towards the sufferings of common masses and asked him to continue this endeavour in resolving the issues of weaker sections of society.
Meanwhile, Akshay Randhawa, Sarpanch along with Sumit Singh and his supporters under the leadership of Parvez Waffa joined PDP in the presence of Ms Mehbooba Mufti.
The newly joined members assured the party leadership that they will work hard to respect the faith posed in them.
Parvez said that it is only the PDP, led by Mehbooba Mufti, that can bring peace and development in the State.
Jodh Singh Saini, Narinder Sharma, Rajat Randhawa, Jagish Singh, Farhan Kohli and Varun Gupta were also present at the occasion.