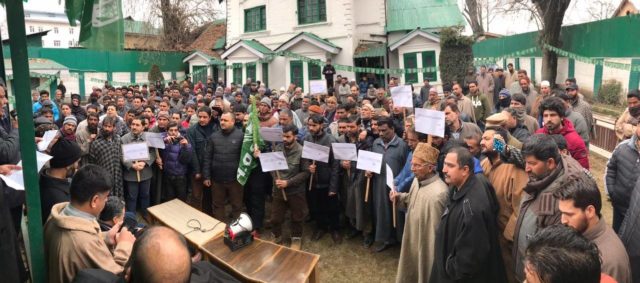 The party today took out a peace march in Srinagar, urging upon the central government to ensure safety of Kashmiris staying at present at different states across the country.
A peace march taken out from Party's Srinagar headquarters was led by Party Vice President, Mr Abdul Rahman Veeri and also witnessed the participation of senior party leaders including chief spokesman Mr Rafi Ahmad Mir, Mr Khursheed Alam, Ms Asia Naqash, Mr Mohammad Ashraf Mir, Dr Ali Mohammad and several others.
The leaders urged upon the governments of all states in the country to take all requisite measures so that minorities and people hailing from Kashmir valley aren't targeted, harassed or intimidated.
The leaders also conveyed concern over the smear campaign launched against Kashmiris by few fanatic groups, exposing the already perturbed people to greater risks.
They also pitched for communal harmony and tolerance in Jammu region wherein few elements are out to defame the brotherhood and communal harmony about which Jammu region is known for centuries.
Meanwhile, Party General Secretary, Mr Ghulam Nabi Lone Hanjura has urged the government to ensure safety of students studying in country's various colleges and universities. Mr Hanjura said that it is deeply concerning that the students have been made soft targets and are being harassed without any fault. He demanded adequate security to Kashmiri students, employees, patients who are staying in various states and also underscored the need of restoring law & order so that further untoward incidents are avoided.