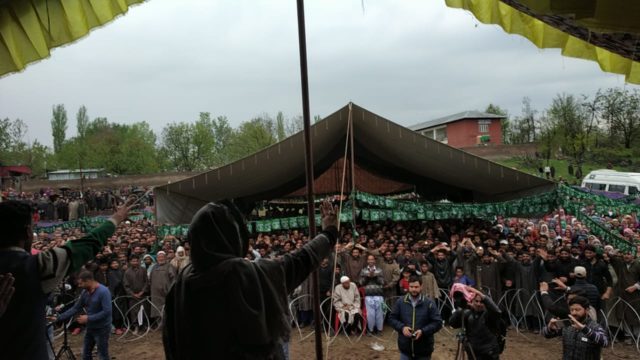 Budgam , April 16: People's Democratic Party (PDP) President and Former Chief Minister Mehbooba Mufti has expressed serious concern over violation of prisoner's rights in Srinagar Central Jail and use of brute force against protesting inmates. Speaking to Reporters in Wahab Pora, Budgam , where she was addressing a Public Meeting  , Mufti said that it looks like government of India wants to turn the Srinagar Central Jail into another Guantanamo.
"Prisoners are entitled to fundamental human rights. Use of brute force to quell protests after alleged desecration of Quran is outright violation of such rights. Government of India wants to turn Kashmir into an open air prison and convert normal jails into Guantanamo'" she said.
Mehbooba also lashed out at the authorities for creating a sense of siege which saw a Sub Divisional Magistrate being roughed up by Army personnel in south Kashmir. She demanded action against those involved in the incident.
"There are reports that a Sub Divisonal Magistrate along with his some of his staff members have been roughed up by some security personnel in Srinagar and even their Mobile Phones have been damaged.  Such an unruly behaviour has become a norm. I condemn this high handedness and seek exemplary punishment against those found guilty," She said.
"Earlier we saw a cancer patient being stopped and not allowed to travel on the highway. Now we are told he is no more. God knows what governor sahib has turned the whole thing into. Are we living in martial law times? "She asked.
Mehbooba asked people to strengthen PDP by voting its candidate in the forth coming elections so as to ensure that party moves forward to get people of the state rid of all the miseries that they are faced with.
Others who addressed the gathering included Senior Leader Dr mehbob Beg, PDP gen secretary and formrt Minister Ab Haq Khan, Party's candidate for Srinagar Lok Sabha Seat Agha Syed Mohsin and others.