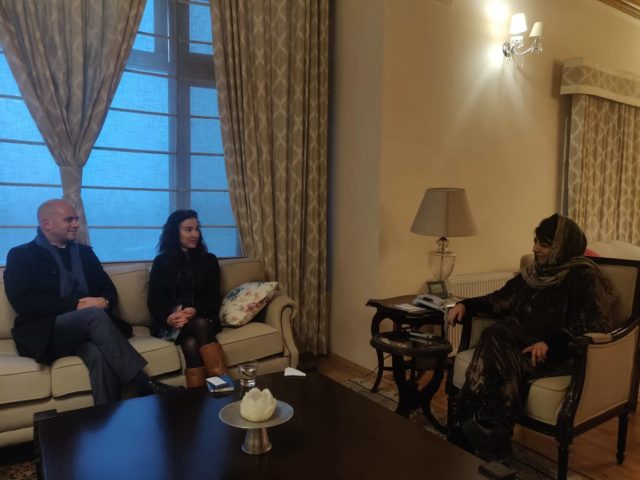 A high level delegation of the British High Commission in India called on the Party President and Former Chief Minister, Ms Mehbooba Mufti today.
The delegation headed by British Deputy High Commissioner to India Ms Jan included Alex Pykett (Head, Indian Foreign and Security Policy Team, British High Commission in New Delhi) and Dr. Deep Jyoti Barman (Senior Foreign Policy Adviser, British High Commission in New Delhi).
Having assumed office recently, Ms Jan Thompson is on her maiden visit to Jammu & Kashmir and called on Ms Mehbooba Mufti at her residence today.
During an hour-long meeting, the delegation discussed current political scenario in the state and the country at large. Prevalent security scenario and forthcoming elections were also deliberated upon in the meeting.
Ms Mehbooba Mufti appraised the visiting delegation about the roadmap that J&K PDP has created in the form of Self Rule Document to guide as a viable way to resolve the issue of Jammu & Kashmir.
"We have sought to create a roadmap that is practical and not rhetorical. And we have proven in the past through opening up of cross LoC travel and trade that a determined and synchronized effort from the center and state could help things that would otherwise seem unachievable", Ms Mehbooba Mufti said.
She told the delegation that it was the earnest effort of Mufti Muhammad Sayeed to see forward movement on the political resolution of Jammu & Kashmir through dialogue and reconciliation that guided J&K PDP into an alliance with Bhartiya Janata Party.
"We did quite a bit on the development front in a very short span of time that we got to work and also pushed on the reconciliation front too. The core issue of the state is essentially more political than developmental", she said while elaborating of the initiatives she took as the Chief Minister.