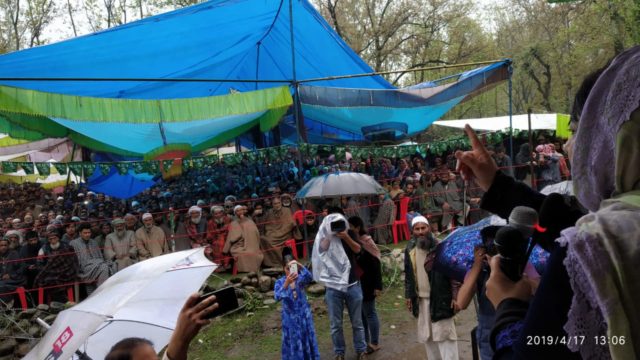 Srinagar:  Terming the present situation in Kashmir calamitous and deeply worrying, Peoples Democratic Party (PDP) President and Former Chief Minister Mehbooba Mufti has said that repression launched by authorities against the people of Kashmir is pushing the state towards the precipice of a disaster.
Addressing massive election meetings in Shangus, Anantnag and pehalgam of south Kashmir at, the PDP President said that the latest incident in which a Sub District Magistrate (SDM) along with his staff was beaten to pulp by the army reflects the worrisome situation taking toll on ground and how at a frantic pace anarchy is replacing democracy in Kashmir.
She said that Kashmir has been sadistically converted into an open air prison with highway shut, prisoners tortured and tormented with impunity and bodies of militants sprinkled with chemicals, burnt and mutilated.
"This doesn't give us a sense of the country to which Sheikh Muhammad Abdullah and Maharaja Hari Singh acceded the state  in 1947. That India was for Hindus,Muslims, Sikhs and people from all faiths. Today, the situation is different in entirety," said Mehbooba.
She said that the repression of such a level being unleashed upon people that Kashmir is fast turning into an unliveable place.
Commenting over the highway ban and how it is affecting the patients suffering from terminal diseases, Mehbooba said that from undermining the human rights to causing heaviest hit upon the Kashmir's economy the gag imposed highway a clear of how Kashmiris are being hounded in more ways than one.
Cautioning that any attempt aimed at fiddling with the special status of Jammu and Kashmir with be sternly opposed by the people of the state, PDP President said that there are conspicuous conspiracies being hatched at different levels to change the Muslim majority status of the state.   However, said Mehbooba, those who demand that Jammu and Kashmir's special   status should be scrapped must understand that that the relation between JK and India is based on Article 370.   If this special status is scarped, it will nullify the legitimacy of accession of JK with the Indian Union, reiterated the PDP President.
She maintained it was PDP that after coming to power in the year 2002 took out the perturbed people of the state from the miserable conditions and accorded them a hope of a peaceful and prosperous Jammu and Kashmir which till then was riven by Ikhwan culture, catch and kill policies and anarchic rule.
She said that it was PDP founder Mufti Mohammad Sayeed who brought the two arch rivals of South Asia together and made them open Srinagar Muzafarabad road while turning the otherwise war ridden Jammu and Kashmir into a bridge of friendship between India and Pakistan. She said that the party will continue to pitch for reconciliation and dialogue between the stake holders to make the state a hub of peace and permanent prosperity.
Senior PDP leader Dr Mehboob Beg , Party Chief Sppokesperson Rafi Ahmad mir, senior leader Peerzada Mansoor & District president Anantnag Advocate Javed also addressed the meetings.