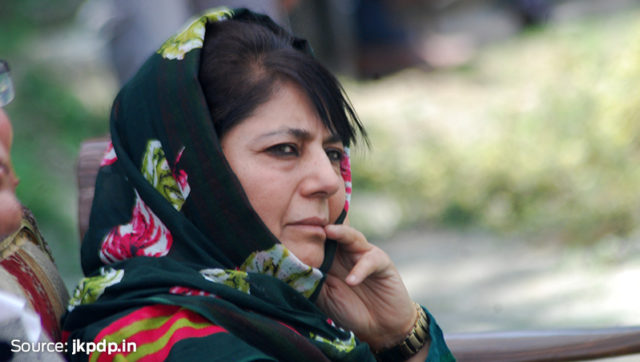 Baramulla, August 2:  Continuing with her public outreach campaign, Peoples Democratic Party (PDP) President and former Chief Minister Mehbooba Mufti visited North Kashmir's Baramulla & Bandipora where she addressed gatherings of party workers in wake of developing political situation in the state.
Addressing party workers, Mehbooba reiterated that people in general and political leadership of the state in particular must unite to thwart any assault on the special constitutional position of Jammu & Kashmir in the union of India.
"The state is witnessing tough times and all of us would be judged for our response to the crisis that is staring us in the face.  Jammu & Kashmir as a Muslim majority state rejected the idea of two nation theory to join a secular India on the condition that its unique identity would be preserved by means of constitutional guarantees.  These constitutional safeguards, the very foundation of our identity are under threat today. We must all stay united to thwart any attack on our special status," she told the workers.
"At this time of existential crisis, we must keep our political differences aside and urge other political parties to join us all in our fight to safeguard our very identity," she urged.
Responding to a question on the conduct of assembly elections to the state assembly, she underlined that in the face of challenges that the state is facing, our priorities must be clear. "elections will happen whenever Election Commission of India decides but  the primary concern where we must invest all our energies at this moment is to ensure that we are able to safeguard of special constitutional status for that moment the foundation of our very identity", she aid.