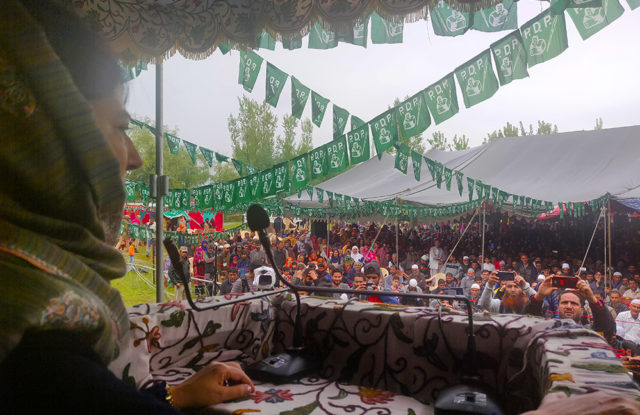 Cautioning people of the state about nefarious designs of Bhartiya Janata Party (BJP) to target special status & identity of the J&K, Peoples Democratic Party (PDP) President and former Chief Minister Ms. Mehbooba Mufti on Saturday asked people to stand in unison against divisive forces and actively participate in the ongoing parliament elections.
"BJP has already publicized its agenda against our very identity and the special status. Now it is working on a plan to divide us and weaken our fight against such nefarious designs. We have to stand guard of our identity and interests as a Muslim majority state across linguistic and sectarian differences. Because they want to widen these fault lines and weaken our fight against their anti-kashmir plans," Mehbooba said.
Ms Mufti was addressing massive public meetings at Chadoora and Khan Sahib Assembly segments of Budgam district to garner support in favor of the party candidate for Srinagar Lok Sabha seat, Aga Sayed Mohsin.
She said that attempts were being made by New Delhi to weaken Jammu and Kashmir politically as well as economically. "We are facing an onslaught on our special status from New Delhi. I have fought it both within and outside the government. My party always stood firm on the core issues without any compromise. Our track record is certificate of our integrity. Today we have to stay united and fight a collective battle to thwart attacks on our identity. We must participate with fervor in the ongoing elections so as to strengthen PDP send our best representatives to defend our special status and identity in the Parliament of India.", she said.
Asked what she thought of the letter written by many veterans to the president of India complaining of brazen politicizing of the institution of the armed forces by the BJP, Mehbooba said that BJP has utterly failed on the fundaments of governance and has been trying to cover-up these failures in run up to the elections by politicizing the institution of the army.
"BJP's record is miserable on account of job creation, economy, development, and there are serious charges of corruption. Since they have no answers to questions on these issues, they take refuge in the brazen and blatant politicization of the institution of the army," she said.
Other leaders who addressed the gatherings include senior leader Dr Mehboob Beg, Party's Candidate of Srinagar Lok Sabha Seat Agha Syed Mohsin,, Party general secretary and former minister Gh Nabi Lone Hanjura, District President Budgam Muntazir Mohi ud din, District President Srinagar and Honorable MLC Muhammad Khurshid Alam, Constituency In charge Chadoora Muhamd Yaseen and Provincial youth president Nazir Ahmad Yattoo.